Storage Capability About 2000 Items and Reading distance 50-80mm
FDX-B & ID64 Handheld RFID Reader/Scanner
Category:
Microchip Scanner & Readers
Overview – FDX-B & ID64 Handheld RFID Reader/Scanner
This series of low frequency RFID Readers for Animal Tracking provide a low cost easy-to-use system for animal identification and management. The series consists of two versions of the reader: The DWC-180 reads compatible RFID tags, displays the tag ID on the screen and stores the data to onboard memory. The other has the additional capability to upload the data in real time via Bluetooth to any enabled PC or PDA.
Specifications – 134.2kHz Handheld RFID Reader for Animal Tracking
CPU

ARM (STM32)

Data memory

EEPROM 32kB,storage capability about 2000 items

Keyboard

3 keys

Interface

Bluetooth 2.0, USB2.0, or No data interface

Screen

128 * 32 OLED( Wikipedia reference)

Beep

Yes

Clock

Yes

Battery

AA*3PCS

Tag Compatibility

11784/85 FDX-B and ID64

Work Frequency

134.2kHz

Reading distance

50-80mm

Standby Time

7 days

Consecutive Working

12 hours

Work Temperature

Operating at -20°C to 50°C

Store Temperature

Storage at -20°C to 65°C

Work Humidity

5% to 90% no frost
maximum magnetic field strength at a distance of 10 m : 66 µa/m

134.2kHz Handheld RFID Reader Suite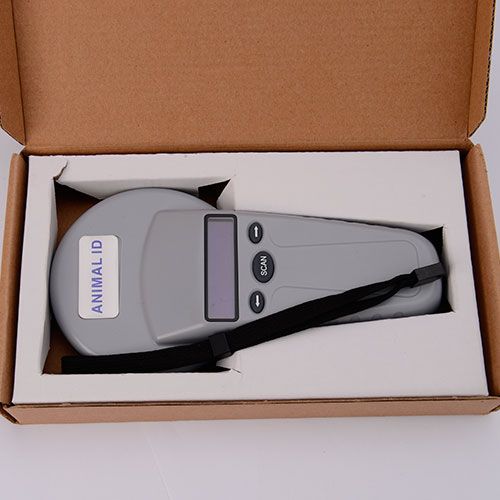 Application Usage – 134.2kHz Handheld RFID Reader for Animal Tracking
Pet management, livestock & poultry management, Wild animal managemen