{wbamp-show end}
FDX-B,HDX and ID64 RFID Stick Readers for Livestock Management
FDX-B ,HDX and ID64 RFID Stick Reader
{wbamp-hide start}
{wbamp-hide end} {wbamp-show start}
Get Samples
{wbamp-show end}
Overview – FDX-B ,HDX and ID64 RFID Stick Readers for Livestock
The Doowa Model DWC-280 Stick Reader is an extremely rugged hand-held passive transponder reading device that provides cable-free operation through its internal replacement battery pack,applicable to the informationization of the livestock management.
The DWC-280 Stick Reader is compatible with the technical specifications of ISO Standards 11784 and 11785, including both FDX-B and HDX technologies. The DW(A)R152st Stick Reader provides the basic RFID reader functions of reading, storing, displaying, and transmitting via RS232 or USB or Bluetooth wireless technology module, the identification code contained within passive transponder for real time and batch mode data logging.
The DWC-280 Stick Reader can be widely used in the management of breeding stock, dairy stock, fatstock and animal butchering, to trace the individual identification. With its mature, stable and unique design, it realizes an identification tracing method with no contact and no interference. Ultimately it guarantees the IDs individuality and authenticity.
Specifications – 134.2kHz Protable Handheld RFID Stick Reader for Livestock Management
CPU

ARM (STM32)

Tag Compatibility

11784/11785 FDX-B ,HDX and ID64

Work Frequency

134.2kHz

Data memory

EEPROM
64kB,storage capability about 5000 items

Height

88cm(35inch)

Width

3cm-6cm(1.2-2.4inch)

Colour

Yellow and black

Communication

Bluetooth 2.0, USB2.0 and RS232

Screen

128 * 32 OLED( Wikipedia reference)

Beep

Yes

Clock

Yes

Battery

AA*4PCS

Keyboard

3 keys

Language

English, Chinese, Spanish, Portuguese, French

Reading distance

at least 20cm for FDX-B chips, 25cm for HDX chips

Continuous working

12 Hours

Standby Time

7 days

Working Temperature

Operating at -30°C to 50°C

Store Temperature

Storage at -30°C to 65°C

Working Humidity

5% to 90% no frost
Rugged, dust-proof and water resistant construction is designed to perform reliably in harsh conditions
| | |
| --- | --- |
| Robust | Industry leading read distance - up to several feet |
| Dependable | 100% performance guaranteed |
| Guarantee | 1 year |
| ISO Compliant | Conforms to standards established by the International Organization for Standardization. The world's largest developer of standards. |
| Components | A stick reader and a handheld suitcase |
| Optional Components | Rechargeable battery and Recharger |
Product Feature - 134.2kHz Protable Handheld RFID Stick Readers
Reads ISO 11784/11785, FDX-B, HDX, ID64 ID tags

OLED screen display (OLED screens are designed to the requirements of field use especially under strong sunlight exposure data to read the screen, minus 20 degrees Celsius.

Takes standard and rechargeable AA batteries, allowing a full days work without a battery change

Rugged design with waterproof reading end

Bluetooth & USB communication protol

Ergonomic design,long read reange up to 25cm

RFID reader functions of reading, storing, displaying and transmitting via USB or Bluetooth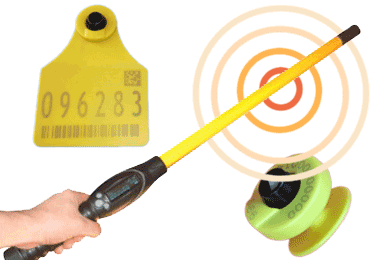 Application Usage – 134.2kHz Protable Handheld RFID Stick Reader for Livestock Management
Can be used in the management of breeding stock dairy stock, fatstock and animal slaughter to trace individual identification