FDX-B and HDX RFID Rumen Bolus Tag Applicator for Cattle,Sheep,Goat and Deer
FDX-B and HDX RFID Rumen Bolus Tag Applicator
Ruminal Bolus
| | |
| --- | --- |
| Model | DWD-912Tag Applicator |
Overview – FDX-B and HDX RFID Rumen Bolus for Animal
The RFID rumen bolus tag has been developed to permanently identify ruminants with an ID bolus that lodges in the reticulum. It's another choice besides RFID Ear tag can be implanted into animal's rumen via oesophagus by applicator.
The bolus tag features EM or Hitag chips sealed within biocompatible ceramic. It is engineered to provide a sophisticated, tamper-proof, yet economical method of employing radio frequency for permanent, positive and safe identification. The RFID rumen bolus exemplifies superior performance, reliability and long term retention.
We recommend the bolus when positive identification is important.
ISO11784/85 134.2kHz HDX or FDX-B RFID bolus tag is a Special design for ruminant animals,which mainly used for cattle,small cattle,sheep,goat or deer.
Rumen bolus is recommended as a safe, permanent and tamper-proof method of electronic identification and Cattle Bolus is also suitable to trace stolen cattle.
Specifications –RFID Ceramic Rumen Bolus
| | |
| --- | --- |
| Work Frequency | 134.2kHz or 125kHz |
| Tag Compatibility | ISO11784/85 FDX-B and HDX |
| Chips dimension | Ф4 mm x 34 m |
| Chips material | Bio-Glass |
| Bolus material | Biocompatible ceramic |
| Reading range | Up to 15cm |
| Work Temperature | Operating at -25°C to 80°C |
| Store Temperature | Storage at -40°C to 120°C |
| Work Humidity | 60°C, 95%RH |
| ESD immunity | ± 2Kv peak |
Item NO
DWD-912S19.5g)

Weight 19.5g
Ø11.1±0.3mm

DWD-912L(67.5g)

Weight 67.5g
Ø19.1±0.3mm
the dimension of bolus can be customized if the quantity is large enough.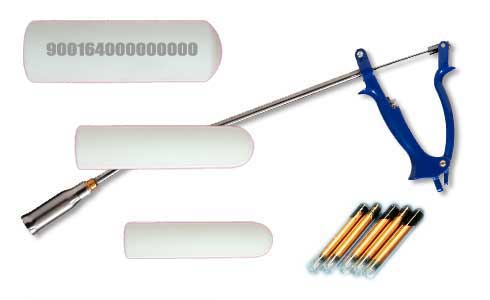 Application Usage –RFID Ceramic Rumen Bolus
Cattle,Small Cattle,Sheep,Goat and Deer